Value-Line 2 Blackjack table with Folding Metal Legs
Our full-size, seven-player Value-Line 2 Blackjack Table is a great value for individuals or clubs that want a sturdy, handsome, and economical Table. With its steel-reinforced frame for added stability and strength, the Table has the feel of a permanent table, with the convenience and price of a Folding Table.

This 6 feet x 3 feet x 30 inches high Value-Line 2 Collapsible Blackjack Tables features seven Player Positions and a Dealer Position. The Blackjack Table also has built-in Cup Holders, a Dealer Chip Tray, a Padded Armrest, a Padded Felt Top, Folding Metal Legs, and a Steel Reinforced Exterior Frame.

Each Value-Line 2 Folding Blackjack Table also has high-grade, mildew-resistant black vinyl bumper pads around the table. In addition, the Blackjack Table's playing surface is made of casino-style, high-grade green felt, and the table top is padded to give the dealer and players the highest comfort level.

Note: This Table is shipped using freight shipping only. Next Day, 2nd Day, etc. shipping options are not available for this item. If you need to ship outside of the continental U.S., please contact us for your shipping options.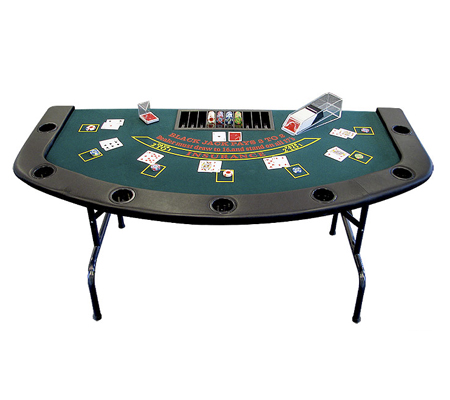 Blackjack Table: Value-Line 2 Collapsible Table with Folding Metal Legs (# BJVL2)

For additional information on our Value-Line 2 Blackjack Table with Folding Metal Legs, please contact us at 1-800-233-0828.

You might also be interested in our Folding Blackjack Table (BJ47839), and our wide selection of Blackjack Supplies.