Custom-Imprinted Plastic Glassware
NEW!

Custom 16 oz. Plastic Mason Jar Mugs
Our Custom Imprinted Sixteen Ounce Mason Jar Mugs are unique among Customized Drinkware items! Perfect for bars, restaurants, clubs, fraternities, sororities, promotions, special events, and much more, our Custom Plastic Mason Jar Mugs are sure to grab everyone's attention.

Our durable, pint size Plastic Mason Jar Mugs are made in the USA of clear styrene plastic to ensure long use. Custom Imprinted Plastic Mason Jar Mugs are available with the one to three color customized design of your choice. Your satisfaction is guaranteed when you order Custom Drinkware from us.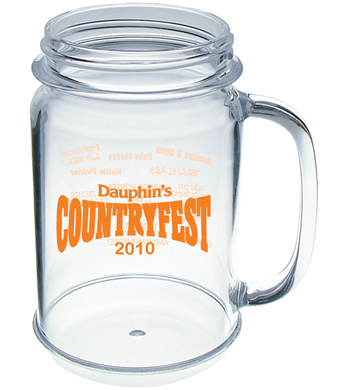 Prices for Custom Plastic Mason Jar Mugs – Call 1-800-233-0828 to Order
No.
Description
Quantity Pricing
Imprint Area
50
150
300
600
1,050
2,550
Width
Height
MMJ116
16 Oz. Plastic Mason Jar Mugs
2.95
2.75
2.65
2.55
2.47
2.43
2.25"
2"
Additional Color Imprint:
.55
.50
.40
.35
.30
.25
Color Setup Charge:
$50.00 for first color
$25.00 for each additional color
$20.00 PMS color match

Acceptable Image Formats:
•.ai (Adobe Illustrator)
•.pdf (Adobe Acrobat)
•.eps (Encapsulated Postscript)
More Mugs 1 | 2 | 3 | 4 | 5 | 6 | 7 | 8 | 9

It's easy to get started with your Custom Mason Jar Mugs – simply call 1-800-233-0828, and then e-mail your camera-ready artwork to graphics@kardwell.com (you can also mail your design). The minimum order is just 50 Plastic Mugs and production time is about three weeks. Rush production and delivery is available.
For more information on Customized Plastic Drinkware please contact us toll free at 1-800-233-0828.