Roulette Tables
Value-Line 2 96" Roulette Table with H-Style Wood Legs
This Roulette Table with H-Style Wooden Legs is a great value for individuals or clubs that want a sturdy, handsome, and economical Table. The Roulette Table measures 96" long x 48" wide 31" high.
Each Value-Line 2 Roulette Table features a Padded Armrest made of high-grade mildew resistant black vinyl material; a Padded Felt Playing Surface made of casino-style, high-grade green felt; Built-in Chip Trays; Cup Holders; a Chip Slot; and Sturdy Wood H-Style Legs. The Value Line 2 Roulette Table can accommodate a Roulette Wheel up to 30" in size.



Side View of Value Line 2 Roulette Table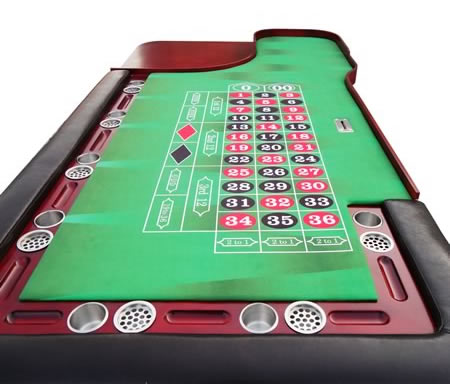 Top View of Value Line 2 Roulette Table


For additional information on our 94 inch Wood Roulette Table (# ROULTABVL2), please contact us at 1-800-233-0828.

You might also be interested in our Eight-Foot ROU2910 Casino-Style Roulette Table, our Nine-Foot ROU1200 Roulette Table, and our selection of Roulette Supplies.