Custom-Imprinted Plastic Glassware
Custom Imprinted Polycarbonate Water/Sports Bottles with Screw-On Lids
These durable Plastic Sports Bottles are custom imprinted with your design in one to four colors. Our Screw-Top Water Bottles hold 24 or 28 ounces of water or the beverage of your choice.

The 24 Ounce Custom Screw-Top Water Bottles feature a wide-mouth opening, pop-up drink-through lid, convenient sports loop, and an embossed ounce chart. Our 28 Ounce Custom Water Bottles feature a screw-on lid with plastic cap, a soft-grip cap that covers the drinking spout, and an ounce chart printed in white. Both Bottles feature black screw tops.

Six different Custom Sports/Water Bottle colors are available: blue, clear (28 oz. only), green, purple (24 oz. only), red, and smoke. Your design is custom imprinted in the color of your choice on one or two sides of the Water Bottles. The imprint area is 3" wide by 2.5" high for the 24 ounce bottle and 3" wide by 5" high for the 28 ounce bottle.

The minimum order for both our Screw-Top Custom Water Bottles is just 48 pieces. Production time is seven to ten days after proof approval.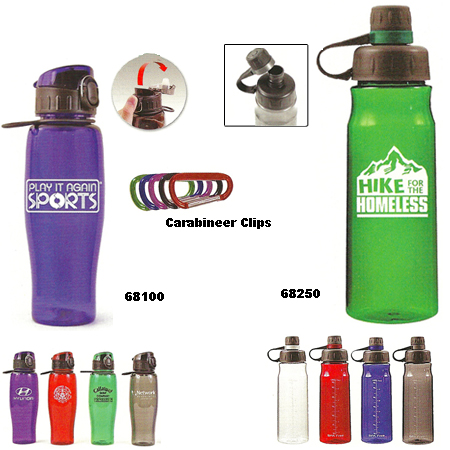 No.
Description
Quantity Pricing
Imprint Area
48
96
144
288
576
Width
Height
68100
24 oz. Quencher Bottle
6.12
5.71
5.44
5.31
5.17
3"
2-1/2"
68250
28 oz. Oasis Bottle
6.28
6.07
5.85
5.62
5.59
3"
5"
Additional Color Imprint
NA
.30
.30
.30
NOTE: Standard imprint is one-sided imprint. Two-sided imprint is available at no additional charge for one-color designs only.
Color Setup Charge:
$40.00 One Time Charge
No Charge Exact Repeat
Bottle Colors:
Blue, Purple, Red, Green, and Smoke
Carabineer Clips (68100 Only):
Add 0.95¢ each, unimprinted and unassembled
Imprint Colors:
Black, White, Red, Light Blue, Medium Blue, Dark Blue, Light Green, Medium Green, Dark Green, Brown, Purple, Yellow, Teal, Orange, Maroon, Gold, and Silver
Multi-Color Imprint:
$35.00 Set Up Charge per Color
(96 pc. Min.)
PMS Color Match:
$40.00 per color, per order
Image Formats:
•.ai (Adobe Illustrator)
•.pdf (Adobe Acrobat)
•.eps (Encapsulated Postscript)

It's easy to get started with your Custom Screw-On Lid Water Bottles. Simply email your camera ready AI or EPS vector art file to graphics@kardwell.com and then contact us at 1-800-233-0828.
For a FREE Catalog or more information on Custom-Imprinted Glasses, pleas contact us at 1-800-233-0828.