Poker Table Accessories
Poker Cloth, Padding, Drop Slides, Dealer Buttons & More!
Choose from a variety of Poker Table Accessories, all available for immediate shipment. We carry poker table cloth, poker table padding, poker drop slides, dealer buttons, chip slot frames, drop boxes and more. For our FREE 104 Page Casino & Game Room Supplies Catalog, please contact us at 1-800-233-0828.

Our beautifully made drink and dinner carts feature a handsome wood laminate finish, a durable black metal frame, and sturdy rolling casters.

Table-Side Drink Cart features two inset drink holders, and it measures 18 x 10-3/4 x 21-1/2 inches.

Our Poker Meal Cart with a solid top (without drink holders) measures 21-1/2 x 16-1/2 x 27-3/4 inches.



Poker Drink and Meal Carts


Poker Drop Slide (Plastic)
Poker Drop Slide (Plastic)
Two types of poker drop slides available:
Plastic and Stainless Steel Construction
All Steel Construction


Digital Poker Dealer Button
Most card club, at-home, and satellite poker tournaments face the same challenge: how to conveniently time blind changes (the minimum required bet for a specific period of play). For years, these players have used various methods to mark the time between required minimum bet increases (blinds). These have ranged from the obvious (kitchen, stove top and microwave timers) to the absurd (old-fashioned buzzer clocks and cell phone alarms).

You can choose from three style Digital Poker Buttons, White or Black with the WPT - World Poker Tour Logo, or White Dealer Button 2.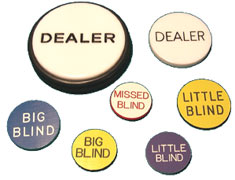 Dealer Pucks, Dealer Buttons, Poker Buttons
Poker Dealer Pucks, Poker Dealer Buttons, and Other Poker Buttons
Choose from our wide selection of dealer pucks, dealer buttons, and poker buttons. (Pictured left to right: Dealer Puck, Dealer Button, Missed Blind Button, Big Blind Buttons, and Little Blind Buttons). If you are looking for a poker button or accessory you dont see here, please call 1-800-233-0828 to see if we carry your item.
| | |
| --- | --- |
| | - Buttons |
| | - Lammers |
| | - Pucks |

Brushed Steel Dealer Button
This stylish new Dealer Button - unlike any other seen in the poker world - is available exclusively through Kardwell International. It is made of brushed steel with "DEALER" etched in black. Each button measures just under 2" in diameter and weighs 3.2 ounces for a unique, solid feel.



Poker Cloth (Speed Cloth)
This poker cloth (speed cloth) is the same kind used in casinos. Green poker cloth and burgundy poker cloth are available by the yard.


Billiard Cloth


Our casino quality Mali (billiard cloth) is available by the yard. Green, Euro Blue, Black, and Burgundy billiard cloths are available. Our casino quality billiard (Mali) is in stock for same day shipment.



| | |
| --- | --- |
| | |
| Billard Cloth Burgundy | Billard Cloth Green |

Billard Cloth Euro Blue


Foam Poker Table Padding
Padding for Poker Tables
Our poker table padding is made of ½ inch thick foam. This poker table padding is 48 inches wide and available by the yard.



Poker Chip Slot Frames
Chip Slot Frames
These poker chip sloth frames are available with stainless steel or brass finish.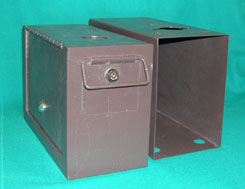 Poker Drop Boxes
Poker Drop Boxes
Our money drop boxes are available in standard size (8 x 8 x 12 inches) and "slim-line" size (5-1/2 x 8 x 12 inches). These poker drop boxes feature durable sheet metal construction and a slotted top to accept money paddles. Locks and keys available.


100% Plastic Playing Cards - Kem Playing Cards & GEMACO "5-Star" Playing Cards
Visit www.kem.com to view our selections of 100% plastic poker playing cards. To see our list of all other playing cards - including Bee, Bicycle, Maverick, and more - click here!

For more information on any of our Poker Supplies or to get our FREE 104 Page Casino/Gaming Supplies Catalog, please contact us at 1-800-233-0828.