Chip Accessories - Insert Trays, Chip Storage Boxes,
Chip Fill Carriers, Chip Spacers & Vault Cans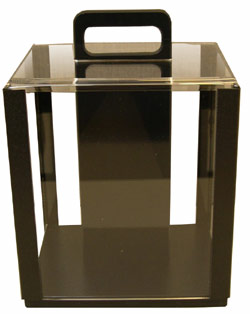 Chip Fill Carriers (1,000 Chip Capacity)
These chip fill carriers feature clear plastic sides and covers with black bottoms. Attractive and sturdy, our chip fill carriers hold 1,000 chips each.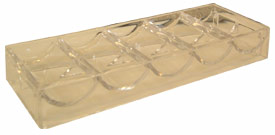 Chip Racks (Horizontal)
Our standard chip racks are made of clear, heavy duty plastic and hold 100 chips. Fat Louie Chip Racks comfortably hold 100 11.5-gram chips. These wide size chip racks are also made of heavy duty clear plastic.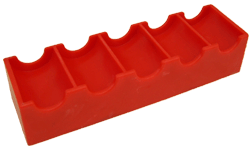 Chip Racks (Red IKE)
These heavy-duty red plastic racks hold 100 chips each.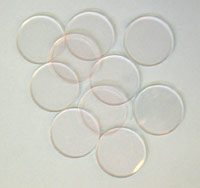 Chip Spacers
Clear, acrylic 1.25 inch chip spacers are available in bags of 100 spacers.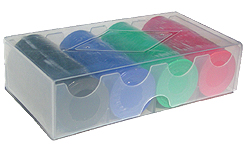 Chip Storage Boxes
These chip storage boxes are made of clear plastic, and they hold 100 chips (4 rows of 25 chips). Each chip storage box comes with a secure cover.

Sale Price: $1.50. Was $3.00. Save 50%!




Chip Insert Trays (Cast Aluminum)
Our silver, aluminum insert tray comes with a locking Plexiglas cover. It is a 330 chip capacity tray, featuring 8 chip tubes (6 long and two short) and space for 2 decks of playing cards. The tray fits a 13-3/4" by 8-1/4" cut-out.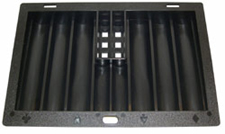 Insert Trays (ABS Plastic)
These insert trays are made of ABS plastic - a virtually unbreakable material - to ensure long use. Please contact us about available capacities.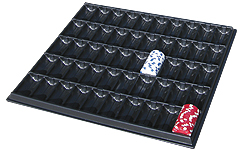 Inventory Trays
These plastic inventory trays hold 1,000 chips. They feature 50 sections of 20 chips.
Sale Price: $13.50. Was $39.50. Save 65%!




Cut Cards
Our durable plastic cut cards are available in red, green, blue, and yellow.




Please contact us at 1-800-233-0828 for pricing,
FREE Chip Samples and a Catalog, or ordering information.